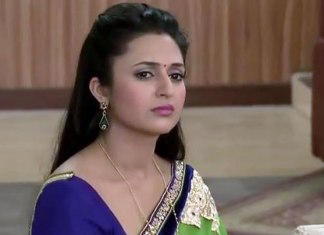 In the last episode of Yeh Hai Mohabbatein, we had seen that Adi talks to Aaliya on call and tell about the situation in the house. Aaliya gets shocked to know that Ishita had left the house. Adi tells that Ishita had done right as Raman never understand her. Shagun hears this and asks about this to Aaliya. Ishita on the other side manages the house and says to Romi that he can go back as he was having many problems.
Shagun says to Aaliya that she will go to meet Ishita. She says that Ishita had done right as Raman will never get change. Raman in the house think about Ishita and then lies that he was having tooth pain. Romi calls Ishita and asks about the medicine. Ishita sends the medicine and a bill as well. Raman gets angry to see the bill. Ishita thinks that she will never go back to Raman. Shagun and Aaliya go to meet Ishita and says that she had done right. Shagun then feels dizzy and Aaliya takes her from there.
Raman talks to Romi and says that what did Ishita thinks of herself. Romi says that Ishita was not joking and she was serious about her decision. Raman then gets Abhishek's call and gets to know that Vidya will come to meet them. Raman says that now Ishita has to come to the dinner to meet Vidya. He goes to talk to Ishita. Ishita opens the door and gets shocked to see Raman.
She says that she will not go back. Raman tells her that he was not gone to call her but to tell her about dinner. Ishita says that she will come and shuts the door. At the restaurant, Vidya greets Ishita and Raman. Then the all starts talking about the love relation and Raman tells his love story with Ishita. Ishita gets angry when Raman says that they love each other a lot and their relation is much pure. Ishita interrupts and says that Raman is bluffing.
In today's episode of Yeh Hai Mohabbatein, we are going to see that Ishita will get much sad and says to Raman that their relation is not an ideal relation. She will speak badly about their relation and Raman will get sad as well. Ishita will keep on insulting their relation and Raman apologise to her. He will try to make Ishita understand. Now it will be interesting to see that will Ishita understand Raman's point or not. Stay tuned with us for more updates and gossips of Ishqbaaz like this.