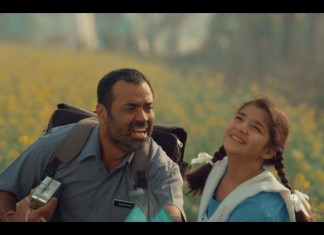 In the last episode of Meri Durga, we had seen that Durga run behind the kite to catch and then gets collided with Yashpal. The maths book from Yashpal's hands gets fall and Durga picks it up. Yashpal gets angry on her and tells her about his struggle. Durga gets sad and Yashpal asks her to value the time only then she can achieve success. Durga cries and Yashpal go back to home.
Durga tries to make him understand but Yashpal tells her that he don't want to talk to her now. Pandit Ji was checking the Kundli. Dulari asks for the food and Brij says that they will get te pizza next time. Then Baby tells Amrita that Rishi is a good boy. She then asks about Durga that where she was. Durga was sad on the other side and then burnt her kites. She says that she will never fly the kites again.
Pandit Ji tells them that the boy's and girl's Kundli are matching and the good time is 12th of the next month. They all gets glad and Dulaari says that she have no objection with that. Yashpal says that Durga has exams and Sheela says that how can they arrange the money in one month. Bantu scolds Durga for burning the kites and then torn Shilpa's clothes.
Durga scolds him as well and asks him not to behave like that. Subhadra comes there and ask them to get agree with the marriage as it will not good to postpone it. Then Shilpa and Bantu come to everyone and tells about Durga's behavior. Durga's friend comes to see her and gets sad when Yashpal scolds her. Yashpal then gets agree for marriage when everyone urges her to understand.
Shilpa cries for her Kurti and Rishi give him the money to but a new one. Amrita likes Rishi's behavior a lot. Rishi then defends Durga and says that mistakes can happen. Yashpal then warns Durga and says that she must not repeat such mistakes.
In today's episode of Meri Durga, we are going to see that Durga will get hide with her friends and then thinks about Yashpal's warning. She will get much upset and scared as well. She thinks to go back home and gets out from there. She will be lost in her thoughts while crossing the railway track. Her friends will see the train coming towards her and will get shocked. Stay tuned with us for more updates and gossips of Meri Durga like this.